Stony Brook Southampton Hospital is committed to treating every person with dignity and respect and embracing diversity, equity and inclusion among all walks of life.

"The Hospital is dedicated to creating a safe and welcoming environment for patients, visitors, and staff," said Robert S. Chaloner, Hospital Chief Administrative Officer. "We want everyone to know they are welcomed and valued at Stony Brook Southampton Hospital, regardless of their race, nationality, religion, sexual orientation, or gender identity."

The Hospital's Diversity Leadership Council—a committee of about 20 administrators, physicians, nurses, and other staff—actively educates, informs, and provides resources for the wider Hospital community about diversity issues while seeking opportunities to build an inclusive and safe environment for all who work in, seek care at, or visit Hospital facilities.


In June 2018, members of the Diversity Leadership Council raised the rainbow flag outside the Hospital's Main Entrance in honor of Pride Month. On October 11, 2018, the Hospital celebrated National Coming Out Day by coming out as a safe space at which members of the LGBTQ+ community can work and receive healthcare.
In order to foster a sense of inclusion and compassion for all, the Hospital has provided training to staff through the Responding to Equity, Diversity and Inclusion (REDI) program and the Greater New York Hospital Association's Cultural Competency and Health Literacy education programs.
The Hospital's Office of Cultural Diversity provides interpretation for a wide range of languages through its Language Line and Stratus (Video Remote Interpretation) services. The Office staff also acts as a liaison between patients and Hospital staff assisting non-English speaking patients by interpreting Hospital bills, completing forms, understanding programs and services, and accessing assistance when necessary. For further information, contact the Office of Cultural Diversity at (631) 726-8331.
Click here to learn more about our Language Assistance Department.
To learn more about Stony Brook's healthcare facilities' policies and practices related to the equity and inclusion of LGBTQ patients, visitors and employees, visit https://www.stonybrookmedicine.edu/LGBTQ
To view results of the 2021 Stony Brook Medicine LGBTQ+ Health Needs Survey of Long Island's LGBTQ+ adults (18 years and older), visit: LGBTQ+ Survey Summary | Stony Brook Medicine
All Stony Brook Medicine Hospitals Named National Leaders in LGBTQ+ Healthcare Equality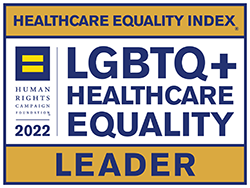 Each year, the Stony Brook Medicine healthcare system seeks new ways to address and affirm the specific and unique needs of LGBTQ+ individuals. Now these efforts have been recognized in a big way, by the Healthcare Equality Index (HEI) survey of the Human Rights Campaign Foundation. The HEI survey serves as the national LGBTQ+ benchmarking tool that evaluates healthcare facilities' policies and practices related to equity and inclusion of their LGBTQ+ patients, visitors and employees.
In this year's 15th annual HEI survey of over 900 facilities nationwide, Stony Brook University Hospital (SBUH), which includes Stony Brook Children's Hospital; along with Stony Brook Southampton Hospital (SBSH); and Stony Brook Eastern Long Island Hospital (SBELIH) were all among a select group of healthcare providers nationwide who earned the designation of "LGBTQ+ Healthcare Equality Leader" for 2022. All Stony Brook Medicine hospitals received the top score of 100 on the survey, which encompasses non-discrimination and staff training, patient services and support, employee benefits and policies, and patient and community engagement.